IAGC International Conference 2020
Trimurti Village
South of France
May 21-24, 2020
The International Association for Generative Change is happy to announce the 2020 IAGC International Conference. We will welcome Generative Change experts and advocates from around the world to share, develop, learn, and enrich the Generative Change field. All presentations will be related to Generative Change– Generative Coaching, Generative Trance, Generative Change in Business, and Success Factor Modeling™:

Lecture-Style Talks
Demonstrations
Interactive Workshops
Discussion Panels
Early Bird Registration
$550 USD
Register now!

Use code EARLYBIRD2020 at checkout
Expires January 1st, 2020
Full-Price Registration
$650 USD


Early bird pricing is available now through January 1st, 2020
IAGC Member Registration
Log in to unlock your code.
Don't have a login? Click the link in the menu above to become a member today!
---
Where Will You Stay?
The 2020 conference will take place at the beautiful Trimurti Village. On 12 hectares in the countryside, among groves of oak trees, grape vines, with a view of the Massif des Maures mountain range and the Bay of St Tropez, the Trimurti Village is one of the most delightful places on earth. Join us for a program full of instruction, inspiration, and fulfillment.
You are welcome to stay on-site at Trimurti. Rooms are available from private to up to 5-person group dorm. Space is limited. Accommodation reservations open in January 2020 and can be booked directly through the Trimurti website. If you choose to stay on-site, your reservation includes meals prepared by the Trimurti dining hall.
You are free to find private accommodations in Cogolin or nearby the Trimurti Retreat center. If you would like to eat at Trimurti, you can pay on-site daily.
---
Conference Schedule
Thursday, May 21st | 10:00 am – 10:00 pm
Friday, May 22nd | 8:45 am – 10:00 pm
Saturday, May 23rd | 8:45 am – 10:00 pm
Sunday, May 24th | 10:00 am – 1:00 pm

Important Dates:
September 30th, 2019
Deadline to submit proposals
November 1st, 2019
Presenters notified about proposal selections
November 14th, 2019
Presenter agreement forms due IAGC
December 1st, 2019
Presenters notified by email when their session(s) are scheduled
December 31st, 2019
Early Bird pricing ends
Januauy 2020
Trimurti accomodations open
---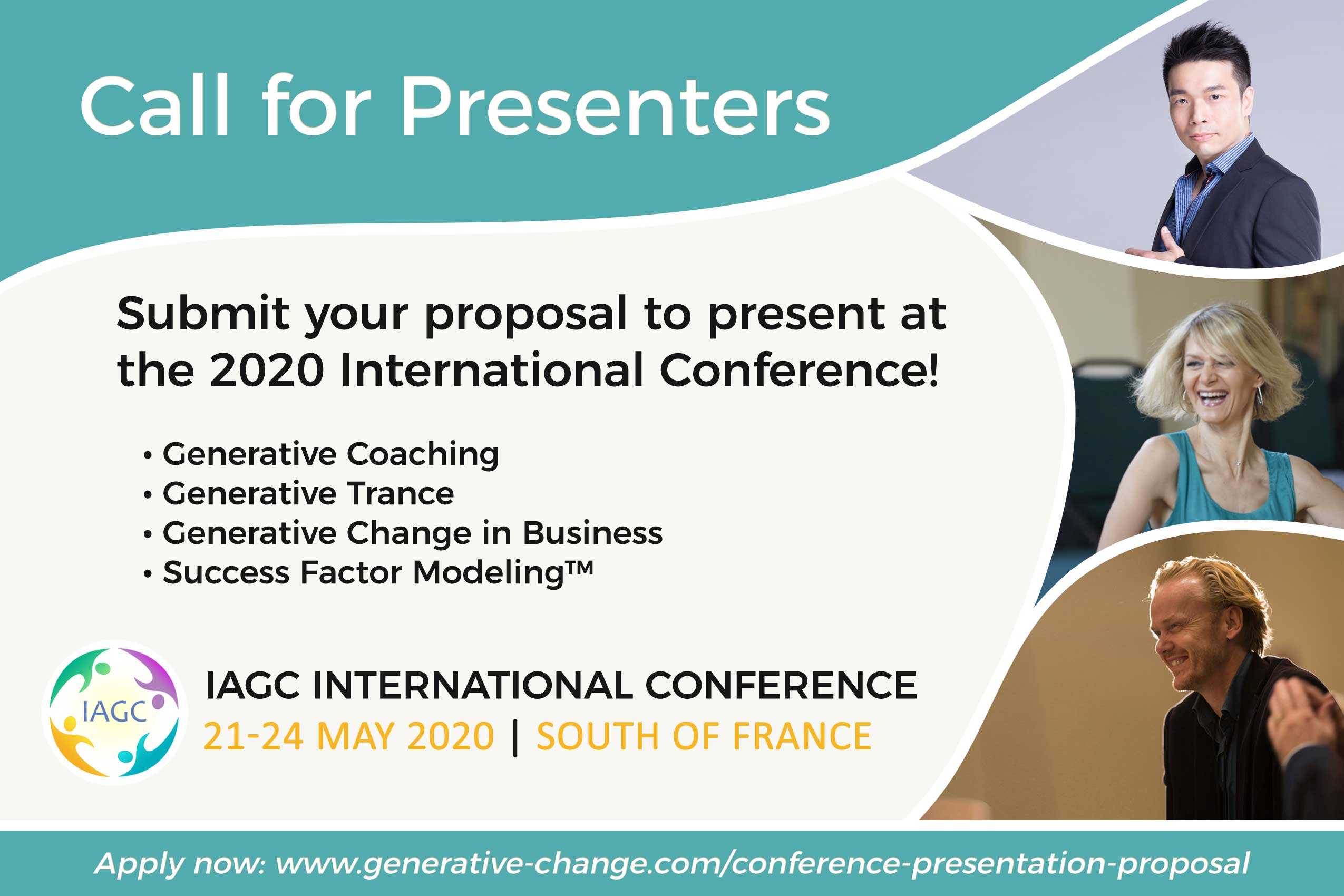 Present at the 2020 Conference
Would you like the opportunity to present at the 2020 International Conference? Apply today!
---
Copyright ©2020 Dilts Strategy Group